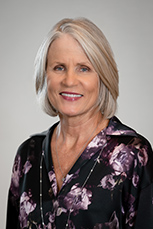 Dr. Ellis is a licensed psychologist and a marriage and family therapist. She provides individual psychotherapy, couples therapy, and family therapy. She is also a Master's level Reiki practitioner and is certified to teach science-based mindfulness meditation.

In addition to helping individuals, couples, and families improve their lives and relationships with others, she consults with parents involved in divorce proceedings to help them separate peacefully, work effectively as co-parents, and mitigate the impact of divorce on their children. She uses an integrative approach to working with her clients and a wide range of therapeutic modalities including cognitive behavioral therapy, positive psychology, systemic family therapy, and training in various meditation techniques.

Dr. Ellis brings a broad experience base to her private practice. She started her career in business as a CPA working for a "Big 4" public accounting firm and then as Corporate Vice President of Investor Relations at a publicly traded software company. After completing her Ph.D. in Psychology in 2002, she joined an international consulting firm where she conducted assessments and provided consulting and coaching to corporate executives and then completed her post-doctoral internship at UT Southwestern Medical Center in Consult-Liaison Psychiatry and Trauma. She has been in private practice for over 20 years.


©2020 Anne V. Ellis